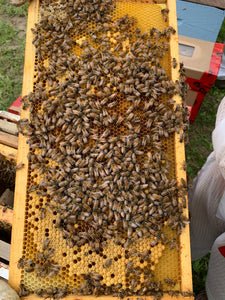 2024 Introduction To Beekeeping Course
ALL LEARNERS ARE REQUIRED TO PROVIDE THEIR OWN PROTECTIVE CLOTHING  FOR THE "IN HIVE" INSPECTION/PORTION OF THE COURSE!!! IF YOU CAN NOT PROVIDE YOUR OWN PROTECTIVE CLOTHING IT CAN BE PURCHASED FROM OUR  STORE THE DAY OF THE COURSE.
The class will begin at 11:00am with a power point presentation. We will stop for a short break and then begin our in hive inspections. The course has no set finish time, once we are finished our hive inspections you are more than welcome to stick around and ask questions.
The introduction to beekeeping course will cover the following:
-Bee anatomy and bee identification
-Equipment and hive setup
-Proper handling of bees and inspections
-What to look for during inspections
-How to introduce a nucleus colony 
-Protective clothing overview
CANCELLATIONS/REFUNDS ARE SUBJECT TO A $50 CANCELLATION FEE!